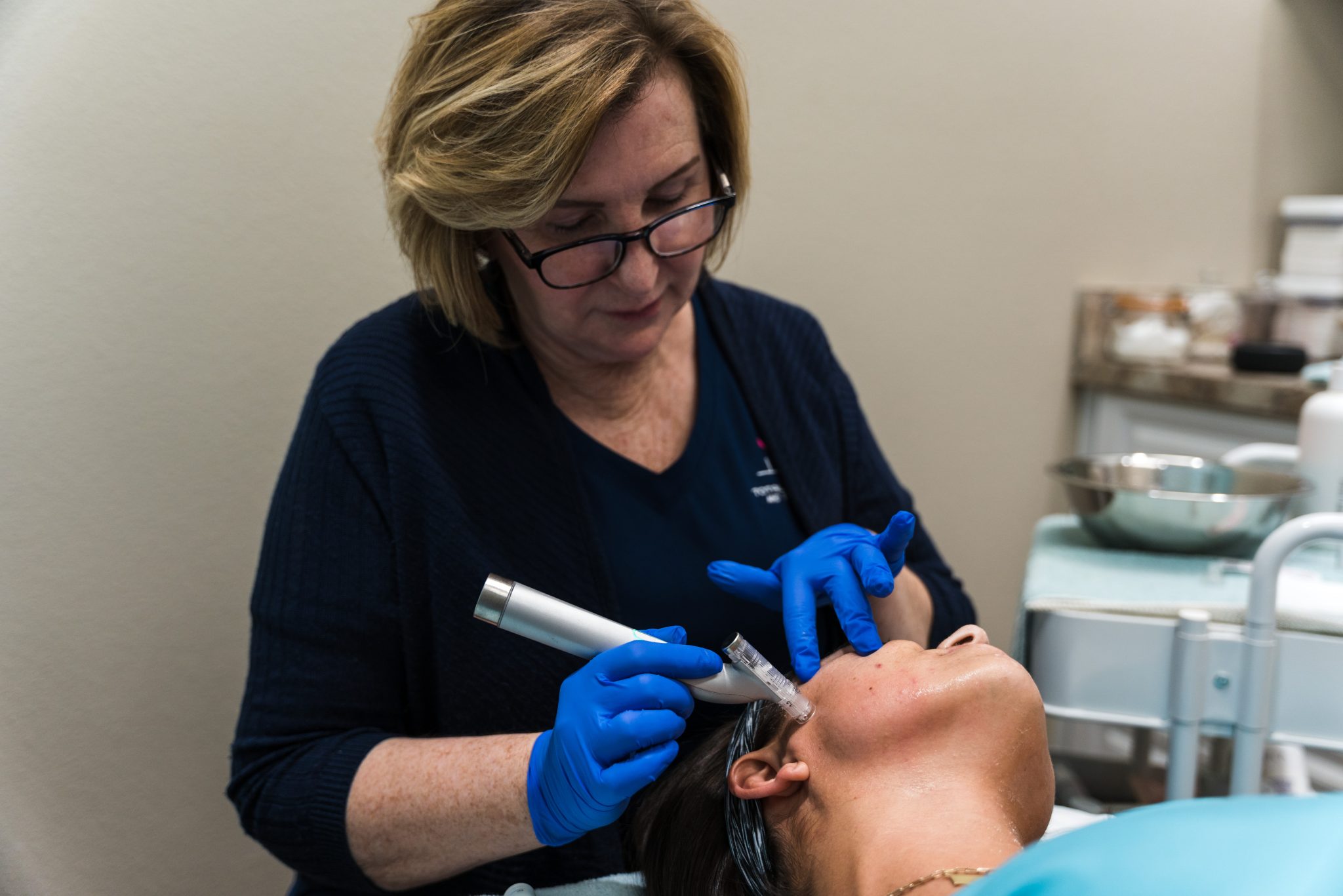 Why Your Skin Care Should Include Microneedling
Both men and women are growing more aware of their skin health and wellness. Much of this is due to increased knowledge and scientific advances. Among countless elements of any skin care regimen, here at Total Nutrition & Therapeutics, we're particularly interested in the enormous benefits of microneedling.
Advances in aesthetic services have transformed public perception. What was formerly viewed as a vanity project reserved for the rich and famous is now an accessible matter of personal freedom to take control of one's confidence. Modern skin care involves an array of options, but at Total Nutrition, we believe microneedling to be at the top of its class. 
How do you know if microneedling is the right option for you? In an earlier blog, we touched on the benefits of microneedling. Today, we'll talk about the who, what, when, where, and why. 
What Is Microneedling?
Microneedling involves tiny needle pricks that draw collagen up to the epidermal layer, which draws collagen to the upper (visible) layers of your skin. The results speak for themselves. Clients find their skin bright, clear, and glowing after their appointments. 
Led by Anita Lockhart, Total Nutrition's Medical Esthetician, our medspa also offers microneedling armed with platelet-rich plasma. Referred to as liquid gold, PRP therapy is known as a natural botox. PRP tightens, lifts, and shines your skin, lending huge additional benefits to your microneedling session. The process is the same. We simply add PRP to the needle. The procedure gets to the root of your problem areas, quite literally drawing up youthful elements from your dermis to the top layers of your skin. 
Who Needs Microneedling? 
Microneedling works wonders on those with scars, wrinkles, hyperpigmentation, and many other skin issues. But microneedling requires no résumé of past efforts to improve your skin—though it does help if you possess a strong commitment to ongoing skin care. If you want to see better, faster, and more noticeable results from your skin care regimen, microneedling is for you. 
Total Nutrition & Therapeutics' head aesthetician, Anital Lockhart, is passionate about aesthetics. Constantly in high demand, she reserves her microneedling services for those who are dedicated to keeping up with their skin care. Without a full and proper regimen, you're unlikely to realize the full benefits of microneedling. 
Why Schedule A Microneedling Appointment? 
Those with experience receiving microabrasion therapy may find better results with microneedling. Whereas microabrasion therapy polishes and burnishes the skin, microneedling lifts, brightens, and fills your skin with natural compounds. 
Again, here at Total Nutrition, we don't require that our microneedling clients bring proof of prior experience. The best answer, perhaps, is also the simplest: you truly want to improve your skin care. 
Schedule Your Microneedling Appointment With Anita Today
Total Nutrition & Therapeutics exists to provide you with a comprehensive health and wellness experience. We bring a holistic approach to all elements of health and nutrition through the use of functional medicine. When you schedule your microneedling appointment with Anita, you'll also gain some insight as to how Total Nutrition incorporates nutrition, movement, and mental health into your skin care regimen. 
We believe the whole is always more than the sum of its parts. More precisely, we know this is the case because our services are based on the latest in science-based health and nutrition studies. Perhaps you're an existing member of the Total Nutrition family looking to add to your wellness regimen. Or maybe you're seeking out skin care services to resolve a specific issue. Regardless of your experience or goals, microneedling provides immense benefits for everyone. Give us a call or visit us online today to schedule an appointment or find out more about how we can help you on your skin care journey. 
---
Contact Total Nutrition and Therapeutics for more about Skin Care & Microneedling!
Millions of Americans are waking up to the radical advances in modern skin care treatment. Here at Total Nutrition & Therapeutics, we remain at the vanguard of skin care, including microneedling services. Led by Anita Lockhart, our microneedling service has brought countless members the bright, youthful, and vibrant skin they desire. Best of all, we offer microneedling as just one aspect of a complete skin care regimen. Visit our website for more information on microneedling today!