Total Nutrition and Therapeutics
Custom Nutrition Plans and Wellness Coaching
START ACHIEVING AND FEELING YOUR BEST
What is Functional Medicine?
Functional medicine, also known as precision, integrative, or lifestyle medicine, focuses on identifying the "root cause" of your dysfunction, listening to your story, completing predictive lab testing and other diagnostic testing looking at markers that identify this dysfunction and then, what sets TNT apart is what comes next. Our passionate, experienced, educated and creative team is happy to provide you the tools to take control of the direction of your health. This approach has the power to help you live a life full of energy and joy!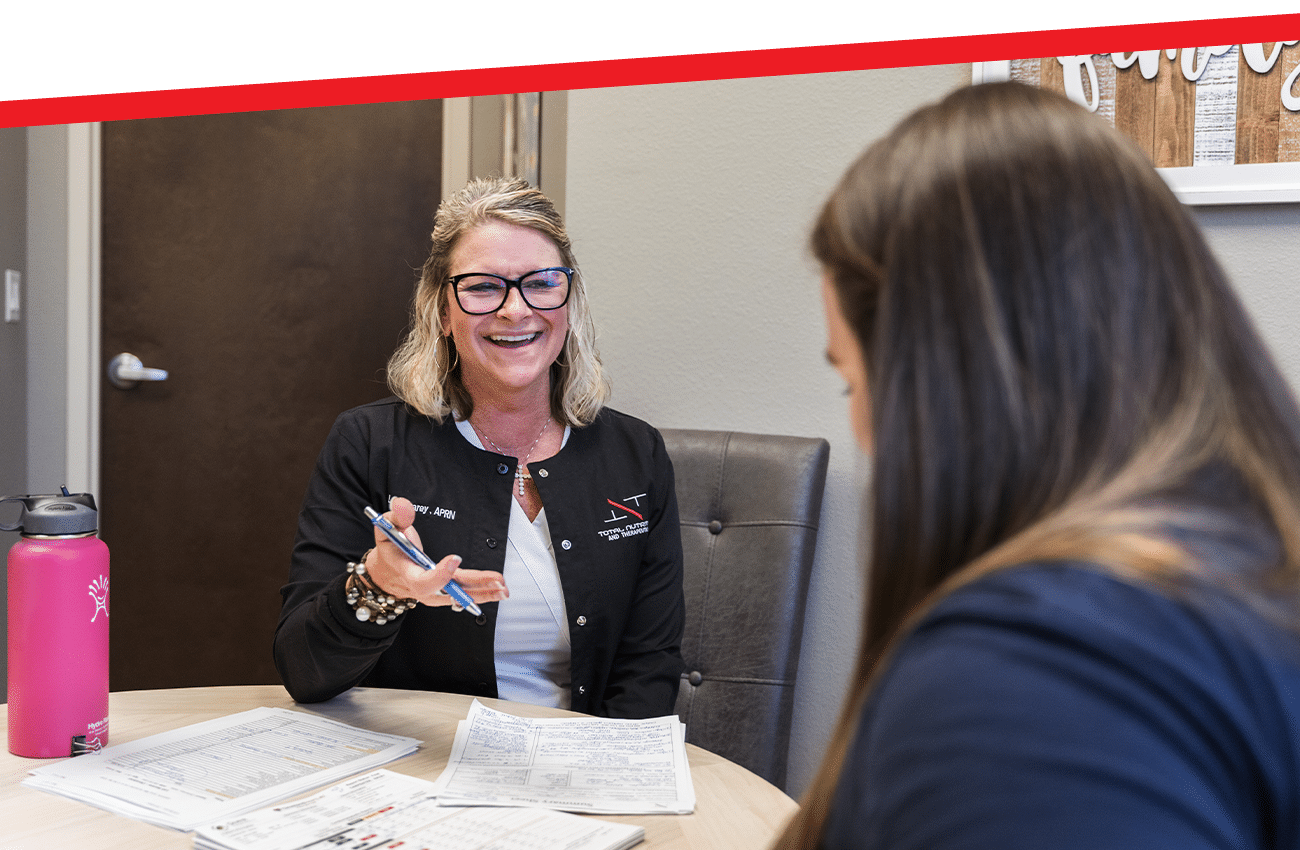 What Personalized Wellness Services Does TNT Offer?
Get on track to feeling revitalized and refreshed with an individualized wellness plan. We'll create strategies to help you achieve your goals. Whether that's fat loss, weight gain, or to feel better, the health and wellness experts at TNT will create a balanced, comprehensive plan to achieve your optimal health and improve your quality of life.
Learn more about some of our customized tools below.
Healing starts with identifying. The first step to nutritional wellness is figuring out what is going on with your body. Diagnostic testing is a primary tool used to perform a "root cause analysis," identify your specific needs and follow up on your treatment plan's outcomes. Types of testing done include food intolerance/allergies, intestinal permeability, genetic testing, stool analysis, and many more.
We teach you why your body requires certain nutrients, and we teach you the techniques you need to be successful. Our classes focus on helping you relearn how you drink, eat, sleep, move, and think. We offer strategies for using movement as medicine, stress management, daily activity, and more. Our best classes take place in a classroom setting where you learn from others and create connections.
Vitamin & Mineral Support
At TNT, we look at your test results to determine your nutritional gaps and teach you about the vitamins, minerals, and nutrients your body needs to heal. We also advise you on the vitamin and mineral supplementation required to fill in nutritional gaps.
In addition to vitamin and mineral supplementation, we also provide intravenous (IV) therapies that administer nutrients directly into the bloodstream. This delivery system is exceptionally powerful because it circumvents the potential loss of potency due to possible breakdown in the GI tract and low absorption of some orally administered nutrients.
It can be quite challenging to build a new mindset about nutrition and how you look at food, but if you put in the work to maintain what you've learned, you will find that healthier living is happier living. We provide you with various resources to help with motivation, maintenance, and accountability.
Fitness / Performance Nutrition
Whether you are currently competing, desire to compete, or want to be the best that you can be and live active, let us help you improve the way you eat, drink, move, think and sleep so that you can be your best you!
Disease Management & Prevention
TNT is a functional lifestyle medicine practice that focuses on "root cause" analysis of the problem. We do so by using unique advanced diagnostic tools to identify the problem, then designing and teaching lifestyle solutions that empower you to look, feel, and function your very best at any age!
Overall wellness requires a long term plan, and overcoming your core challenges is necessary to create real behavior change. If you are willing to be transparent and get to the core of the issues that interfere with your wellness goals, our licensed mental health counselor is here to help you.
If you think you can, you can. If you think you can't, you can't. If you don't have the mindset that living well can happen, then it won't. Our mindset coach helps with shifting how you look at things and overcoming obstacles and challenges that might stand in your way.
Contact Us
"*" indicates required fields