TOTAL NUTRITION AND THERAPEUTICS
IV Therapy Near Lady Lake, Florida
What is IV Therapy?
IV therapy is a delivery method for fluids and nutrients. TNT's IV Therapies can help you
recover from an illness

prepare for an upcoming surgery

increase your hydration levels

improve your vitamin intake

improve your nutritional status

fill in your nutritional gaps

helping you feel better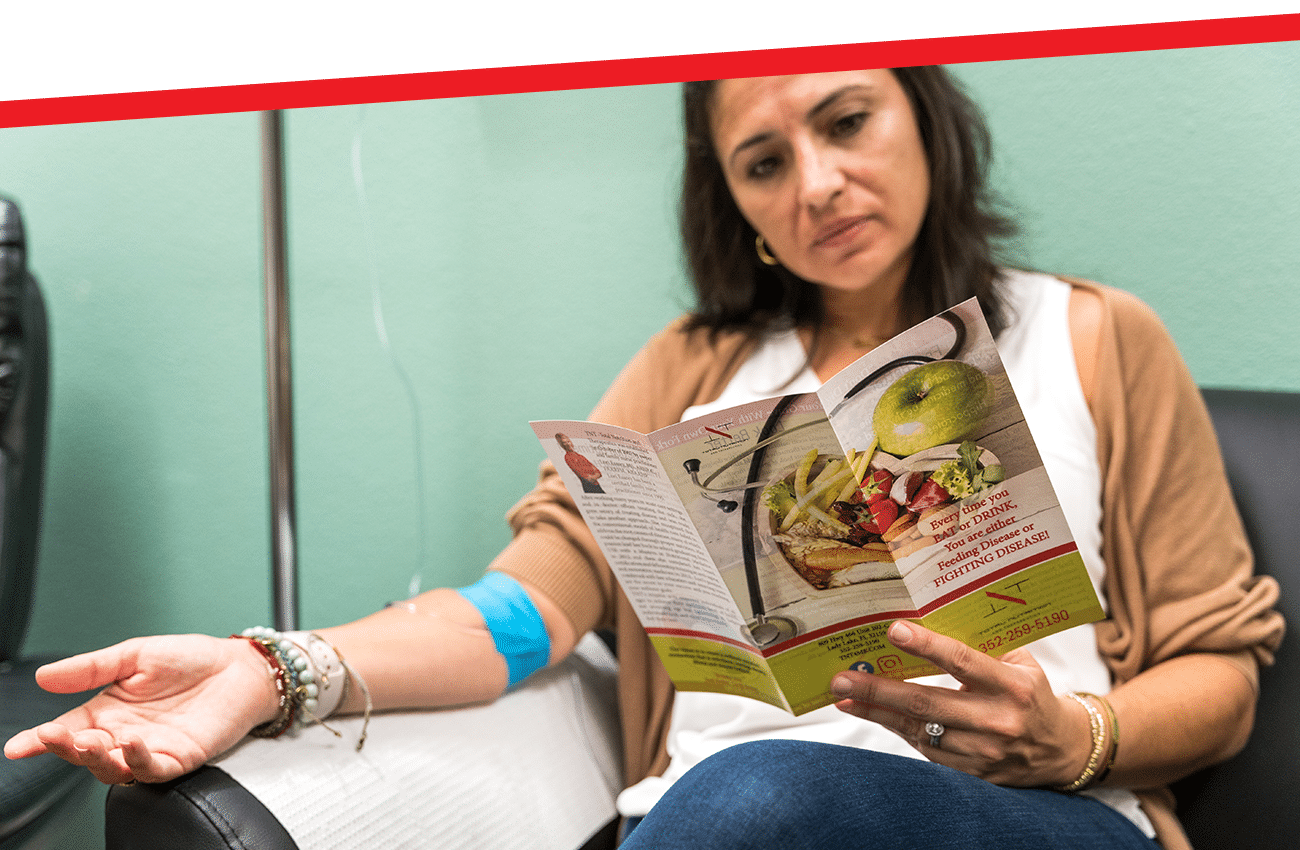 About IV Therapy
For some, the thought of an IV conjures up images of being stuck in a hospital bed with various tubes providing vital fluids for recovery. While IVs are used in hospital and clinical settings, IV therapy is becoming more popular among people of all ages as a more efficient way to fill in nutritional gaps, recover from illness, and feel better.
With IV Therapies, our TNT Providers and IV nurses will infuse vitamins directly into a person's veins. Most clients who opt for IV treatment report quick results in which they feel better almost instantaneously.
IV Solution services offered at Total Nutrition & Therapeutics
Do you want to improve your overall health & wellness, increase your athletic performance, cure a hangover, speed up your illness recovery, or reduce your allergies? TNT offers IV therapy solutions for all of that and more, including:
Anti-aging Benefits
Poor nutrition, chronic stress, improper sleeping patterns and lack of physical activity all contribute to premature aging, loss of skin elasticity, weight gain, abdominal fat, anxiety/depression, digestive disorders, skin problems, fatigue and illness. Learning how to manage your lifestyle is key to slowing the aging process and retaining youth. A healthy diet – high in vitamins, minerals, enzymes, phytochemicals, antioxidants, essential fatty acids, fiber and amino acids – along with proper sleep, exercise and stress management techniques, are all necessary for retaining youth and slowing the aging process.
Even if you eat well, your body might not be absorbing the vitamins and minerals it needs to fight the aging process. IV therapy boosts the antioxidant vitamin and mineral levels in your body much more effectively than oral supplements. You can choose from a variety of IV cocktails, each design to help your body repair damage, prevent aging, and recover its youthful vigor.
Call Total Nutrition & Therapeutics for More Information
Whether you need a hangover cure or simply want to boost your immune system, TNT has an IV therapy option to suit your health care needs and goals. Contact us today by calling (enter phone number) to see if you are a candidate for IV therapy
Contact Us
"*" indicates required fields