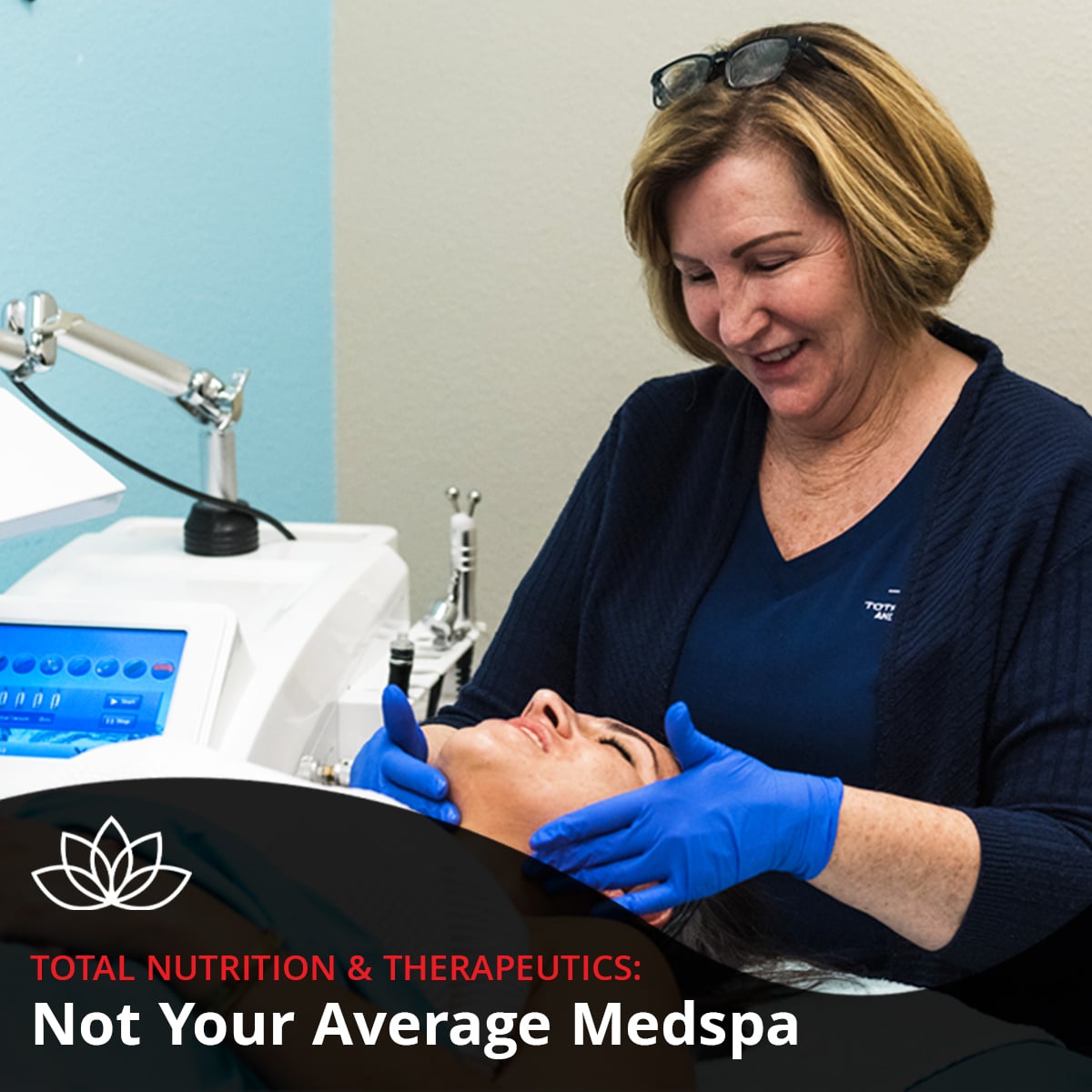 Not your average medspa: Total Nutrition & Therapeutics' expert skin care service
The Total Nutrition & Therapeutics blog has spent quite a while focusing on functional medicine. Starting with today, however, we're going to shift our focus to therapeutic services, beginning with skin care. In particular, we're going to talk about how Total Nutrition's medspa professionals offer the most advanced, top-line services in natural skin care and aesthetic services.
Functional medicine turns our behavior and consumption habits into wellness tools. Total Nutrition & Therapeutics create nutrition plans, diagnostic testing, and movement strategies that help us look and feel our best. With today's therapeutic advances, we can also optimize our features using natural products and processes. One of the best ways to improve our aesthetics is through proper skin care. 
Total Nutrition & Therapeutics: Not Your Average Medspa
We Put The Med In Spa
A medspa differs from your average spa in many ways. Hot tubs, muzak, skin-searing saunas—these amenities, while pleasant, do not contribute to your skin care routine. Total Nutrition & Therapeutics is not your average spa. For those with earnest skin care goals, our medspa offers the absolute best in epidermal enhancement, transformation, and maintenance. 
The Total Nutrition & Therapeutics medspa is led by Anita Lockhart, who spent 17 years in dermatology and is a licensed medical esthetician. We provide the latest and most natural skin care services in the industry. 
Anita Lockhart: Career Dermatologist & Skin Care Expert
After nearly two decades in dermatology, Anita has spent a year with TNT studying functional medicine. She has intertwined this web of knowledge into her extensive experience with beauty and aesthetics. She knew that the way we look begins with the food we eat, the way we sleep, our mental and physical habits, and much more. 
Throughout her eclectic career, Anita has worked with or for doctors, surgeons, and medical directors. She's gone from a dermatology internship in hospital settings to teaching chemical peeling and other skin care routines to aesthetics professionals. 
Getting Started With Anita
You Must Be This Dedicated To Ride
Total Nutrition & Therapeutics' medspa services start with a free consultation. During your first conversation with Anita, you will get a chance to detail your lifestyle habits, including diet, sleep, and exercise. 
Understanding how you live is crucial to forming a comprehensive skin care plan. But there is one routine perhaps more important than any other: your skin care routine. Total Nutrition's medspa services those who truly want to retain and improve their skin quality and care. We yearn for clients whose desire to realize these goals matches ours. This desire begins with understanding why you need to take care of your skin. As the largest organ, your skin filters everything between your internal mechanisms and the outside world. It's the first thing people see. 
Finding the right person to work on your skin is integral to taking care of it. Regardless of where you're starting, no matter what issues you face, Anita will help you achieve your goals—as long as you remain committed to your daily skin routine. 
Medical Grade, All-Natural & Tailor-Made
Following your free and in-depth consultation, Anita forms a detailed, customized skin care plan. 
Her plan caters precisely to your needs. Whether you struggle with rosacea, poor skin texture, sun spots, acne, or a combination of maladies, Anita merges your habits and attributes with her extensive dermatological experience and procedural technique. 
Do you need a total upheaval of your skin care routine? Are you attending a wedding in four weeks? Are you going to be wed in four weeks? Anita also integrates your timeline, goals, and circumstances to find the perfect plan for you. 
Anita Has Skin In The Game
Glowing testimonials point to the quality of our products and procedures. But any self-proclaimed stock market guru can muster up a few success stories. When it comes to Total Nutrition's Medspa, we don't use anything on a client before Anita tries it first on herself. 
It doesn't matter if you're looking for an investment strategy, a used car, or a great skin care routine. Being sure about the product is key. When it comes to skin care products, you should know where it's from, what's in it, and what it will do for you (rather than to you). Further than total transparency, we offer the certainty that we use the same products and undergo the same procedures we offer our clients. 
The Proof Is In The Product
So what is all the fuss about, exactly? Let's take a look at some of the most popular skin care applications offered here at Total Nutrition's medspa. 
The Big Three
Whatever your needs, Anita possesses the skills and tools necessary to meet them. She wields a wide variety of routines and procedures with precision. 
There are three aesthetic services, however, with highly effective yet broad applications:
Platelet-Rich Plasma Therapy:

PRP Therapy starts by drawing blood. Anita then separates from the blood a platelet growth factor serum. They call this serum 'liquid gold' because of its enormous benefits for the skin. One of our TNT providers then injects the liquid gold into problem areas, where you might be suffering from dryness or a lack of lift.

Micro-needling is then performed with the remaining PRP to give the skin a radiant glow.




PRP is known as natural botox, or a natural filler. You are simply removing a useful serum from a small amount of blood, and placing it where it's better served. 

Hydro-Facial:

Our most popular service is our medical-grade, patented Hydro-Facial device. This device cleanses, extracts, and hydrates the skin. Using a mix of all-natural extracts, a hydro-facial clears dead skin cells, loosens pores, and prepares this detritus for extraction. 

Microneedling:

This may sound strange, but the idea here is to damage the skin. Don't worry, it's not invasive or painful. The tiny needle pricks draw collagen up to the epidermal layer, which lifts, brightens, and fills your skin. 
To optimize the procedure, Anita can add a medical grade growth factor product or even your own PRP to the treatment as an added benefit. This is one of the most popular and effective procedures, for its dual approach. 
Our full-service list is robust, including Laser Genesis Treatment, Microdermabrasion Treatment, Radio Frequency Treatment, and much more. We always watch and explore the latest research to generate new technologies, procedures, and innovations. In fact, we recently received a new microneedling device, with higher precision and effectiveness, due to high demand. Furthermore, we aim to add Radio Frequency Microneedling, which, similar to PRP Microneedling, would enhance the levels of collagen being drawn to the epidermal layer. 
You Deserve The Best In Skin Care
Though our skill set is exclusive, our service is absolutely not. We welcome anyone and everyone who is committed to bettering and upholding their skin routine—because you deserve the best in the skin care industry. 
The Total Nutrition & Therapeutics mission is to provide comprehensive health plans steeped in real science and catered to real individuals. The same goes for aesthetics and skin care. With Anita Lockhart at your side, you can realize the skin you've always envisioned. 
---
Contact Total Nutrition and Therapeutics for more about skin care and aesthetics! 
The Total Nutrition & Therapeutics medspa isn't like other medspas. Our medical grade, all-natural service has helped hundreds of clients realize the mirror reflection they envisioned. Whether you're disenchanted with your skin care routine or want to commit to one, Total Nutrition & Therapeutics offers the best skin care services in the industry. Our expert medical aesthetician, Anita Lockhart, brings nearly 20 years of experience in dermatology and beauty services to the Total Nutrition medspa. Visit our website to find out more about how Total Nutrition & Therapeutics can walk you through a proper detox.