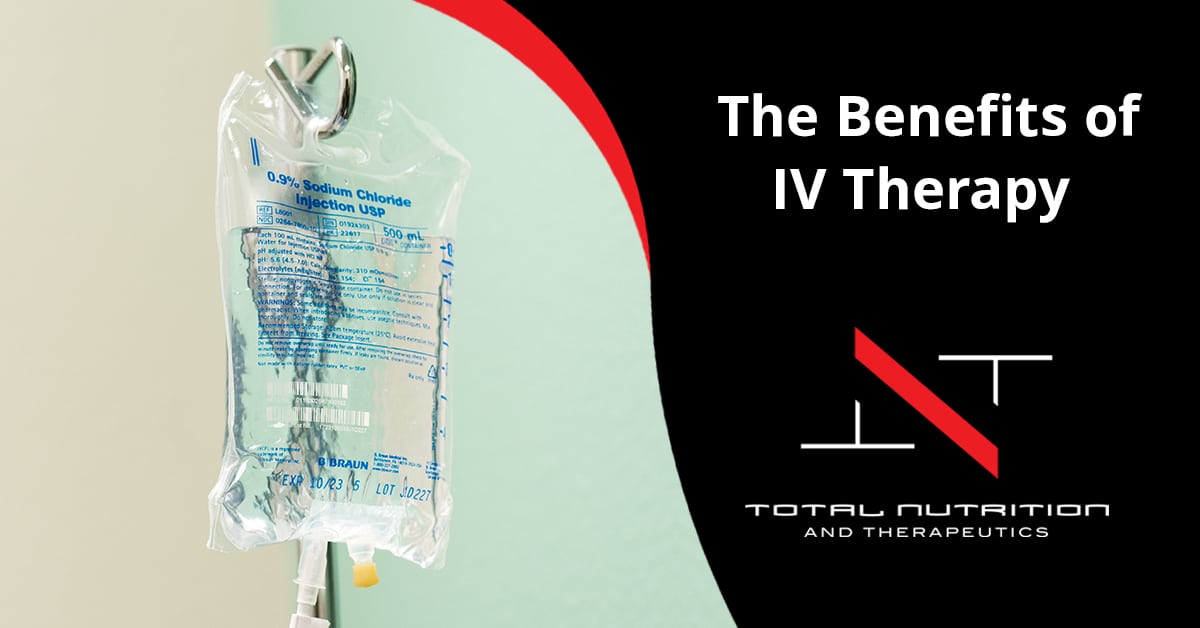 Benefits of IV Therapy at Total Nutrition & Therapeutics
We recently had the chance to sit down with Pamela Pedrick, Total Nutrition & Therapeutics' leader in intravenous therapy, or IV therapy. We discussed everything there is to know about Total Nutrition's IV therapy service—from the general benefits of IV therapy to how Pamela tailors IV cocktails to the needs of individual patients. 
In today's blog, we'll cover all of this, and more!
TNT's IV Therapy Specialist: Pamela Pedrick
A registered nurse and certified health coach, Pamela worked eight years in the pediatric emergency room. As a health coach, Pamela developed strategies with patients to implement and stick with health and wellness plans, remain accountable, and navigate their plan while maintaining a busy schedule. 
Not only that, Pamela has a Masters in Counseling, which she earned while working at a local pregnancy center doing group work.
Most nurses know how to put in a catheter. But Pamela isn't just any nurse. She brings a deep level of knowledge and experience in IV therapy and understands how to educate clients to maximize their health plan. Most importantly, she understands nutritional science and how to channel that knowledge into the needs of individual patients. 
Pamela's Approach
As with all of us here at Total Nutrition & Therapeutics, Pamela approaches IV therapy with a holistic mindset. IV therapy isn't just about the benefits gained from each session, but the patient's full health plan—including diet, exercise, and mental upkeep. 
According to Pamela—and in conjunction with the tenets of functional medicine—IV therapy works best as part of a full health plan. 
Getting Started with IV Therapy 
What Is IV Therapy? 
IV therapy provides us an alternative avenue to attaining the vitamins, minerals, and other important resources we need to not only survive, but also thrive. In the same vein (so to speak) as supplements, intravenous therapy involves megadosing nutrients and other molecules that are integral to proper bodily functions. 
Total Nutrition IV Therapy Process
IV therapy uses either a syringe or, more often, a drip bag to deliver the solution into a patient's body. Total Nutrition's IV therapy specialists, led by Pamela, mix original recipes, each one tailored to the results of your blood work diagnostics or your symptoms. 
We make the process as simple as possible. Those new to TNT call and provide Pamela with basic information. Then, Pamela calls back within 24 hours, whereupon patients engage in a more detailed discussion of health history. 
Patients check in at the front, filling out paperwork only if you're a new patient, before one of our nurses brings you back to the IV room. They insert the IV and get the bag ready for the infusion. 
We tend to start off slow. The first bag takes between 30 to 45 minutes to empty, infusing your body with resources catered directly to your health plan. Some of our patients feel better before the bag is even finished.
The Benefits of IV Therapy
Everyone can benefit from IV therapy. We're all under stress, which affects our ability to absorb nutrients traditionally, through our stomach. Furthermore, we require a surplus of these vitamins and minerals when under stress. At the same time, stressors, such as the pandemic, deplete us of these reserves. 
Stress defines adult life in America. And stress diverts blood from the stomach to limbs and extremities, making it difficult to digest food or nutrients in the traditional fashion. This causes problems with absorption and leads to inefficient energy processing—and unprocessed food is either excreted or stored as fat for future fuel. We do not absorb vitamins and minerals properly.
Therein lies the greatest benefit of IV therapy: bypassing our stress mechanism by infusing vitamins, minerals, and crucial resources straight into our blood. The result is a sense of restoration, vitality, and wellbeing. 
Total Nutrition's IV Therapy Service
IV Therapy Cocktails & Contents
Here at Total Nutrition, we tailor every inch of your health plan. When it comes to functional medicine, we don't just talk the talk. 
Your IV therapy cocktails are mixed to reflect your diagnostic testing and health goals. Meaning, every bag is unique, just as you are. 
You may receive any of the following cocktails and contents—and just as often their contents could be conflated or separated depending on your diagnostics and circumstances:
Amino acids

(Glycine and Taurine)

:

The building blocks of our essential proteins, amino acids provide great benefits for energy and exercise and brain health

Add Glycine and Taurine to Meyers or Mini

:

Though absorbed through meat and fish, most people don't get enough in their diet (especially fish). Taurine is used in energy drinks, but that's really cheap stuff. Both glycine and taurine offer tremendous benefits for your brain.

Meyers

: The Meyers cocktail imbues high doses of magnesium, calcium, B-complex, vitamin C, and dexpanthenol. This one is excellent for energy and focus. 

Mini

: A 20,000 mg dose of Vitamin C will really help with those prone to illness. Vitamin C also eats sugar, which

decreases

inflammation. We add magnesium, potassium chloride, and calcium with this bag because Vitamin C can deplete these levels, which lowers blood pressure and can make people feel nauseous.
The Benefits of Total Nutrition's IV Therapy
There's a reason why Total Nutrition's IV therapy service rates so highly among our patients. The benefits are real and immediate, yet also lasting. But there are many other factors that set our IV therapy service apart from others'. 
Pamela caters specifically to you based off diagnostic testing, individual symptoms, and the treatment plan created by our providers

We use the best products and are very careful about where we order from

Pamela educates patients about their symptoms and what they're being treated with (

e.g. some patients can experience detox symptoms—

hence the inclusion of the three minerals noted above to avoid nausea and headaches). Most providers don't even tell you what's in the bag.

In addition to diagnostics and individualized health plans, Pamela and her team

always

ask about your symptoms. Querying the senses can offer deeper insight and detail. 
Alternative Benefits of IV Therapy
IV therapy can add to anyone's health plan. Bypassing a stress-compromised stomach is universally beneficial. 
But IV therapy also helps in a couple of specific scenarios:
Those suffering from an affliction like headaches and migraines (which magnesium combats). 

On the other hand, it's also good to come in on a one-time basis if you're doing something to add to your baseline stress load, like traveling.
Final Word on TNT IV Therapy
There are countless reasons why Total Nutrition & Therapeutics' IV therapy service offers benefits above and beyond other providers. Visit our website to learn more, including IV therapy FAQs. Don't hesitate to reach out to schedule an appointment with Pamela and get started with Total Nutrition today.  
Contact Total Nutrition and Therapeutics for more about IV Therapy!
IV therapy has become a crucial pillar to patient health plans here at Total Nutrition & Therapeutics. It's one of the safest and most effective ways to revitalize depleted resources and boost wellness. Visit our website for more information on our IV therapy service today!